Byrom Elementary visit May 15th 2015

Today EBR visited Byrom Elementary in Tualatin to spread awareness about the rescue and talk to the children about being responsible community members.
The kids loved seeing the birds and asked many questions about them. It is the second year we have shared the birds with the second grade class. It is our hope that the children will understand that animals, especially these long living birds, should be adopted not bought as babies.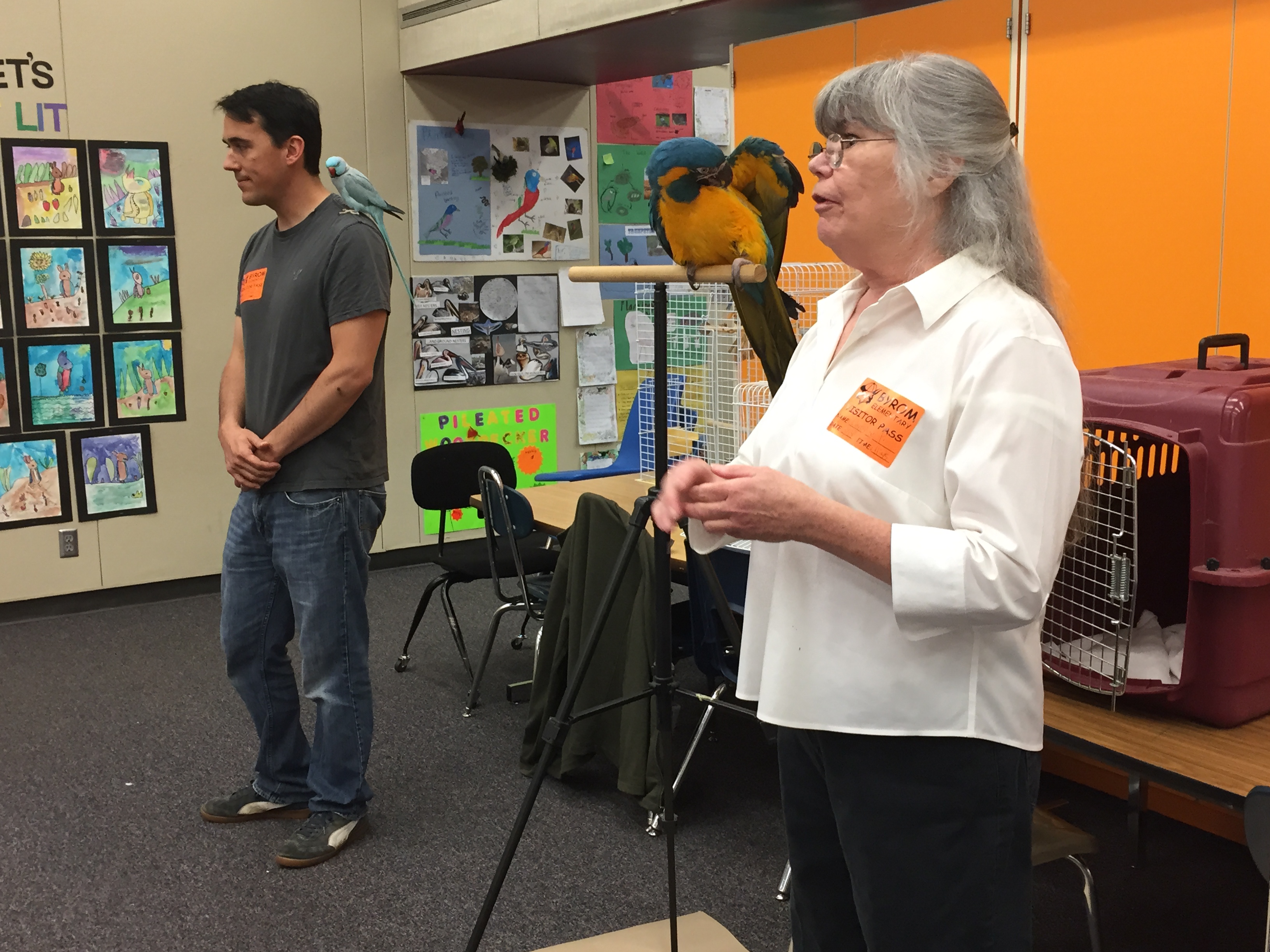 We also reviewed the importance of being a responsible person by caring for the environment and helping to protect the forests these lovely creatures call home.
Pet and Companion Fair 2014
Petco Hillsboro event 4-6-2014
Petco Gresham 3-15-2014
Petco Eugene 3-8-2014
Gresham Petco 1-18-2014
Hillsboro Petco 1-12-2014
Petco Tualatin adoption event 1-4-14
Seattle Parrot Expo 10-19 and 10-20-2013
Home Depot safety fair
Eugene 10-12-2013
Petco event 10-5-2013
Petco event 9-7-2013
Petco adoption event 8-31-2013
Adoption Event!
Petco Tualatin Store
8775 Tualatin Sherwood Road
Tualatin, OR 97062 / 503-885-9224
| | | |
| --- | --- | --- |
| All set up and ready to go. | Behind the scenes | I guess they thought the birds wanted windows, they moved us to the front of the store. |
Girl scout toy making event

Monday April 8, 2013
Thanks go out to Girl Scout troop number #20285!
We had a great time spending a Monday evening making toys with the Girl Scouts.
They seemed to really have fun with it after their first couple of toys.
There was a wide range of ages so some girls needed more help than others.
They were able to create 9 fleece comfort toys and swings, 8 foraging toys for smaller birds,
10 large to medium block chew toys and 13 medium sized chew toys for the conure up to Amazon sized birds.
Pet and Companion Fair 2013
Pet and companion fair 2012
Check our Ruby and her foster dad Matt on TV....