Ruby is still feather challenged and continues to pluck her feathers. She enjoys regular baths and soothing aloe mist to keep her skin soft and healthy. Ruby also has a small wardrobe of vests to keep her warm and to deter plucking. We are hopeful that she will one day be fully feathered.
Despite still plucking her feathers, her feather condition has improved drastically. The feathers missing around her nares and eyes had completely grown back. Her wing and tail feathers are shiny and vibrant. Her color has improved and she is just beautiful.
This beautiful girl is patiently waiting for her perfect forever home. A home willing to prepare her healthy daily meals, give her plenty of showers and change her vests. Ruby is looking for a calm and quiet home to call her own. She is waiting for a family with patience that is willing to accept her and love her for the wonderful girl she is.
Adoption Fee $400
*Ruby does have some special dietary needs and requires a natural diet. She does not eat pellets or fortified seed mix. She should not be given any foods that are enriched with added vitamins such as pastas, breads and cereals. These foods cause her a variety of issues including difficulty breathing, itchy skin and toe-tapping. Ruby eats a mash of fresh veggies, fruit, rice and beans twice daily. She enjoys a dry mix of grains, seeds, unsulfered dehydrated fruit and vegetables during the day.
Ruby is very sensitive to dust/feather dust and benefits from a quality air purifier near her cage.
Check out video of Ruby!
Ruby loves all her new toys! Thank you Sally!!!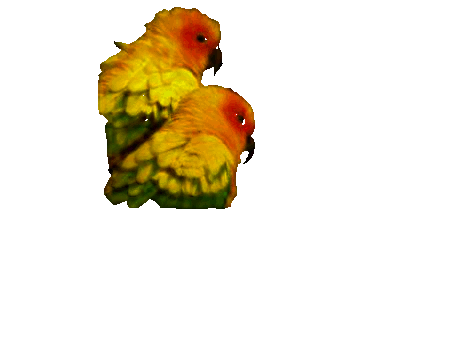 ©Copyright 2005 Exotic Bird Rescue of Oregon