Lost 3-13-13
Found 2-1-13
Found 12-29-12
Parakeet in Tigard,OR. Click
Lost 12-27-12
Cockatiel "Beaker" lost in Seattle, WA. Flew out from 22nd & Yesler around 12pm. Click
www.parrotalert.com/L6967
for more information.
Lost 12-24-12
Jenday conure "Lolita" lost near 73rd Ave in Hillsboro, OR. Please contact Christina at 503-707-9281 if you have any information.
Lost 12-18-2012
Lost 12-5-12
for more details.
Lost 12-01-12
African Grey "Boo" was lost
in Camas, Livingston Mountain area on 07-21-12. Borders Camas/Vancouver area in Washington. Boo was lost back in July but his family is still looking for him and holding out hope that he will return. Please contact Sondra at
sannyq@comcast.net
or 360 954-5330 if you have seen Boo.
Lost 11-20-2012
Found 09-12-12
Found Cockatiel in the middle of September near 181st & Powell area.Tame and steps up. Quite the little singer / whistler. Please contact EBR with description.
Lost 9-22-12
Male Eclectus parrot "Lucky" in Forest Heights, OR area. Call 503-575-6565 or click on the flyer.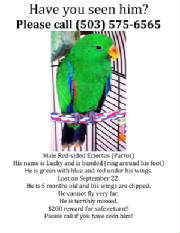 Lost 9-15-12
Conure in Olumpia/Lacey WA Bigelow Park area. Please
call 360-338-0486 if you have information.
Lost Posted 9-13-12
Lost 9-1-12
Yellow Cockatiel in Oregon City of Redland Road. Please contact Pam 503-631-2204.
Lost Posted 8-31-12
8/31/12 Scarlet Macaw in Boeing Field area, Museum of Flight, West Seattle WA. Contact (206) 767-6672 if you have any information.