We are in serious need of volunteers and foster homes.
please let us know if you can help!!!
Welcome to Exotic Bird Rescue of Oregon
A 501(c)(3) non-profit organization. The mission of EBR is to provide a safe haven for birds in need, And to seek proper placement of them through a variety of proven rescue models. Exotic Bird Rescue of Oregon is dedicated to providing ongoing information, and education in the best practices of proper avian care and behavioral training to current and potential exotic bird owners.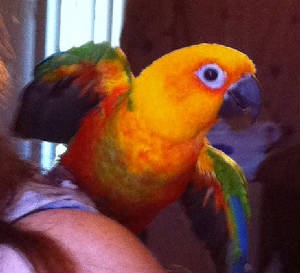 EBR is helping collect donations to save a bird's life & we need your help now! Please help us raise $2000 to provide a life-saving surgery for this Jenday
Conure named Norbert. We need donations quickly because time is running
out to save him. You can make an easy quick tax-deductible donation of any
amount thru the link above at EBR's secure paypal.
your funny bird stories, & find out about other local fundraising events for
Norbert, thru this link for the Save Norbert Official Facebook page! Please
click "like" also to post your own well-wishes & comments. They'll also post
thank you's to those who donate, or give a free plug & post link to any bird
related business who donates at least $20 or more on this facebook page too! So its some good additional
advertising for your business to contribute to this important cause), & provide other important info.
Feathered friend of the week.